Edgewatch Platform
Automate protection and mitigate risk to the extent of your internet exposure
EdgeWatch Attack Surface Management Platform allows you to visualize your external attack surface as a hacker would. By leveraging the same internet-scale bot technologies used by threat actors, the EdgeWatch Platform discovery engine continually iterates through every connection, link, embedded code, DNS reference, and more to build a complete outside-in view of your organization's public-facing digital footprint.
Our fully extensible API provides users with the ability to integrate EdgeWatch vulnerability intelligence into any GRC or bug tracking system.
Benefit from continuous vulnerability management and penetration testing, security visibility and security intelligence.
HOW EDGEWATCH ATTACK SURFACE MANAGEMENT WORKS
EdgeWatch continuous process of discovery, assessment, reporting and protection across your entire attack surface gives the necessary awareness for security teams to effectively protect the enterprise.
Verify
Verify the success of the entire
process. This step maintains
transparency and accountability
across the company.
Remediate
Prevent attacks that cannot be
detected by existing solutions.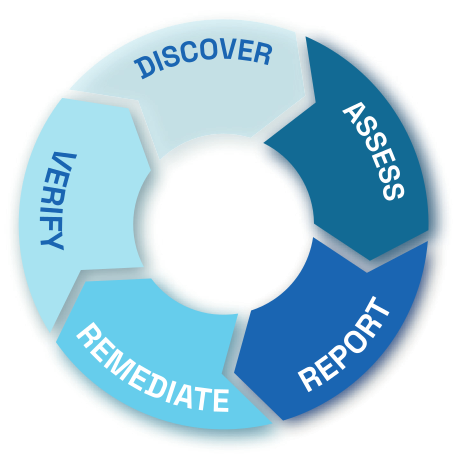 Discover
Discover known and unknown
connected external assets, uncovering
any forgotten devices.
Assess
Assess the risk of all your
Internet-facing assets, gaining
timely efficient access to the
information.
Report
Reports will include
recommendations as well as
the best plan to triage the risks
quickly and seamlessly.
Feature highlights
Vulnerability assessment and prioritzation
EdgeWatch intelligent vulnerability assessment engine considers not only the type of asset, but how it is connected to the whole organization. Utilizing our proprietary multi-layered assessment, all the vulnerabilities are examined for the risk they present as well as their exploitability acording to our own security intelligence sources. This approach not only reduces false positives, it gives your team powerful insights into which vulnerabilities are the greatest threats and should be prioritized immediately.
Risk Assesment
Our multi-layered vulnerability assessment engine continually identifies, ranks, and prioritizes any vulnerabilities or risks that require mitigation.
EdgeWatch helps inform decision makers and supports proper risk responses and assesses the likelihood of the business vulnerability to a cyberattack. It uses key indicators and risk signals that provide a strategic or more holistic view of the possible threats that can impact the organization, identifying damage that can be minimized, or even completely removed.
Reduce your external attack surface
Modern enterprise environments are dynamic, dispersed, and growing, making it impossible for security teams to mitigate all potential entry points. Companies need visibility over the entire attack surface to protect it adequately. Effective security requires constant audits and assessments of your vendor ́s security posture. Minimize the number of possible vulnerabilities by reducing the number of assets that might have vulnerabilities. By de-commissioning assets that are no longer necessary for operations, you reduce the overall attack surface to defend.
Attack prevention
Prevent brand damage, data breaches, and financial losses in the millions: EdgeWatch provides your team with a clear list of action items and a streamlined workflow, so your security team tackles the most critical issues before they're breached.
Make informed decisions on which elements to keep, mitigate, or remove. Visibility of your entire external attack surface enables security teams to make informed decisions about eliminating the assets and connections that expose the organization to risk.
Advanced insights and active protection
EdgeWatch Attack Surface Management Platform provides your team with suggested steps to mitigate or remediate complex vulnerabilities to accelerate MTR. For additional peace of mind, our platform's Active Protection feature provides automated defense from breaches interacting with all your EdgeWatch enabled Firewalls
Digital Supply Chain coverage
Your digital security is only as good as your partners' digital security. Inline APIs, third party libraries or code dependencies, your IT vendors, manufacturers, suppliers, or service providers all pose some risk to your network. A business-stopping supply chain incident is only a few clicks away.